Interested in starting your own business? Let's talk about it.
At Kontota, sharing a clear vision and executing that vision are central to our philosophy. The mobile grooming industry is an essential service in which customers are willing to pay more to reduce stress and anxiety on their pets and increase convenience for themselves. 44% of Americans have dogs and customers want convenience more now than ever, creating a massive opportunity to scale this model beyond imagination. This sector is expected to grow exponentially. Our mission as a franchisor is to provide 100% franchisee satisfaction and incredible support. We are here to help and guide you every step of the way. Our goal is to build a solid reputation and relationship with each franchisee, so we can work as a team to become the largest mobile pet service provider in the U.S. by 2030. We believe that "There is no substitute for hard work." -Thomas Edison.
Our Franchise Mission is to give aspiring entrepreneurs an opportunity to pursue their dreams of owning their own business.
Our Consumer Mission is to maximize safety, comfort, and convenience for pets and customers
Our Corporate Mission is to empower employees to put safety first, innovate, and ensure customer satisfaction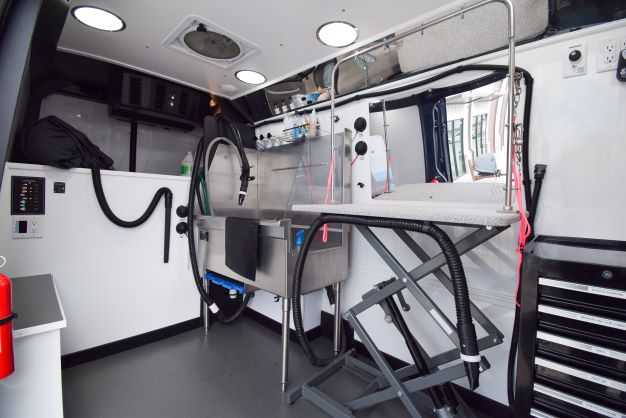 Kontota is built on the belief that keeping pets and people safe drives all sustainable success.  Convenience and quality of grooming work are also central.  Our company goal is to become the number one mobile pet service provider in the U.S. by 2030.
Employee/Customer Satisfaction
When a company takes care of employees by creating a fun, meritocratic culture, employees will, in turn, take care of customers without having to be micro-managed. This culture has led to massive innovation across all aspects of our organization.
Safety
Our number one core value is safety. It is crucial to place high emphasis on driving and grooming safety with all employees and contractors to avoid accidents. Our promise is to ensure a safe environment for our employees and pets. Safety will always remain our number one core value.
Continuous Improvement
When a culture of trust and transparency is created within an organization, employees will constantly share new ideas. The culture of empowerment throughout all levels of the organization is a transformational approach helping a company innovate, grow, and get ahead.
At Kontota, the key to growth is caring for franchisees and providing 100% franchisee satisfaction. Our obligation is to ensure every franchisee's questions are answered promptly and each franchisee gets immediate support. Kontota recognizes the challenges of being a small business owner and the importance of having a timely support during difficult situations. In addition, we are always available by phone or email to address any questions or concerns that arise while operating the business.
Kontota is radically opened-minded to new ideas that franchisees might have to continuously improve safety, employee/customer satisfaction, scheduling, routing, hiring, etc. The entire system benefits from one another's success. The key to franchisor/franchisee success is an honest, transparent communication throughout the development of each franchise. Feedback is appreciated and will be met with professionalism and an open mind.
Create The Life You Want With Kontota®
Interested in starting your own business? Let's talk about it.